I made an order for Pocahontas, Jasmine, and Tiana. I managed to get through paypal... but it froze after returning to the Disney site.
this is what the confirmation email says:
this is what disneystore.com shows me under order tracking:
this is the confirmation email from paypal:
and this is my credit card activity: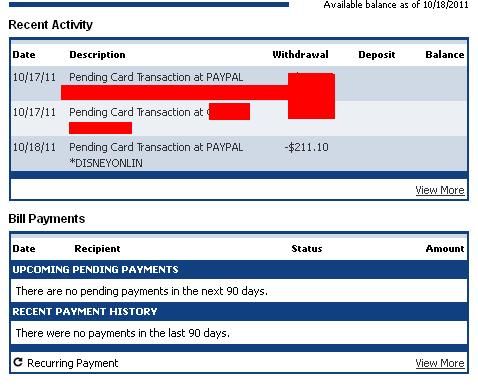 paypal always takes a while to process. I have another ACTIVE order on disney right now, which paypal hasn't processed. but it shows what I ordered (animator's dolls) and looks normal. paypal always takes a few days.

I just got off the phone with a disneystore rep, and she cannot see my order at all. all she could offer was paypal's # (insistingly as if it was their problem).

I have read here before, like with Snow White, several of you had ordering issues.

how did you get your dolls? what happened? what advice can you give me when I call back later?
ETA: the red blocks are information that I've hidden, like my address, phone #, and other credit purchases.
Current Mood:
depressed